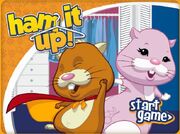 Ham it Up is a game on the Zhu Zhu Pets website, Zhuniverse.com.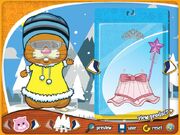 In this game, the player's job is to dress up the hamsters in outfits and put them on backgrounds. There are five hamsters available, which are
Mr. Squiggles
,
Jilly
,
Chunk
,
Num Nums
, and
Pipsqueak
. There are six outfits, which include a skiing outfit, a basketball player, a princess, pajamas, a cowboy suit, and another outfit (needs confirmation). Three backgrounds are available, which consist of a snowy forest, a sunny day at a park, and a living room. To dress the hamsters the player can click the arrows on each side of the outfit to view more outfits. Then the player can click and drag a part of any outfit to put it on the hamster. There are many ways to dress the hamsters; the player can dress a hamster all in one outfit, or they can mix and match and put different parts of different outfits on their hamster. If the player wants to change the hamster he/she is dressing, he/she can click the arrows with a hamster face in between them on the bottom screen. If the player wants to change the background, he/she can click on the arrows with a symbol representing the background the hamster is currently on (three trees with snow on them for snowy forest, three regular trees for park, green couch for living room) in between them on the bottom screen. Some additional features are being able to view the page for the outfit that is currently selected by clicking "view product", being able to save a picture of the dressed hamster on the player's computer by clicking "save", being able to see what the saved picture should look like by clicking "preview", and removing all clothes from the player's hamster so he/she can start over by clicking "reset".
Throughout the game's run, it has been updated at least once. When the game first launched, only Mr. Squiggles and Jilly were available to dress up, and there were only three outfits, which were the skiing outfit, the basketball player outfit, and the princess outfit. The game was later updated to include Chunk, Num Nums, and Pipsqueak and the pajamas, the cowboy suit, and another outfit (needs confirmation).
Mr. Squiggles appears to have no tummy patch in a picture of him in the living room background.
External links
Edit