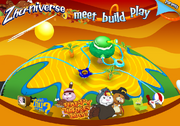 This article is about the website. If you're looking for the fictional world of the Zhu Zhu Pets, click here.
Zhuniverse.com is the current Zhu Zhu Pets website. It was launched on November 29, 2010 and replaced the older Zhu Zhu Pets website, zhuzhupets.com, which replaced an even older version of the site that can be found here. In the beginnning of August 2011, the website was redesigned. The design of the cartoon Zhu Zhu Pets has been changed as well.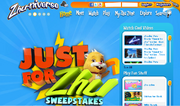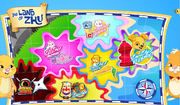 Originally on the homepage, there was a 3D world that the player could click and drag. You could also click on a world to go there, and click on add-ons to see a brief description of them. It was later moved to the games section in favor of a new homepage. The feature no longer exists, as it was removed when the site was redesigned in August.
This new feature was added when the site redesigned. It replaced the 3D World feature. The feature spawns a map of the "Land of Zhu" with several Zhu Zhu areas like Zhu Zhu Pets, Princess, Babies, Zhu-Fari, etc. The player can click on a land to go there. Once there, the player can move their mouse to go left or right. They can also click on objects to change them, reveal hidden games to print out, watch videos, or look at pictures.
There were also new games added, but older ones like Maze Runner were removed. However, the older games can still be played at mygogopets.com, which is Cepia's backup of the old site.
Build/Zhu Creator
Edit
Main article: Zhu Creator
There was also a "Build" feature where you could drag Zhu Zhu rooms and tunnels onto a background and connect them. It is still here, but was removed from the toolbar, relocated to the games section, and was renamed Zhu Creator.
My Zhu Zone
Edit
Main article: My Zhu Zone
There is also a feature called My Zhu Zone that was added at the beginning of December 2010. Parents can sign up for the site and add accounts for their children. A My Zhu Zone account lets you create wish lists, keep up with and add to your Zhu collection, and also get Badges for exploring the site!
External links
Edit